Tecognize specializes in enhancing its team by selecting dedicated software developers and DevOps experts who share our aligned goals. Choose to hire the finest talent from us and unlock their full potential to elevate your success!
Managing Remote DevOps Experts Has Never Been Simpler!
With Tecognize, bid farewell to the cumbersome process of interviewing and recruiting DevOps experts, and kickstart your project with our carefully vetted professionals.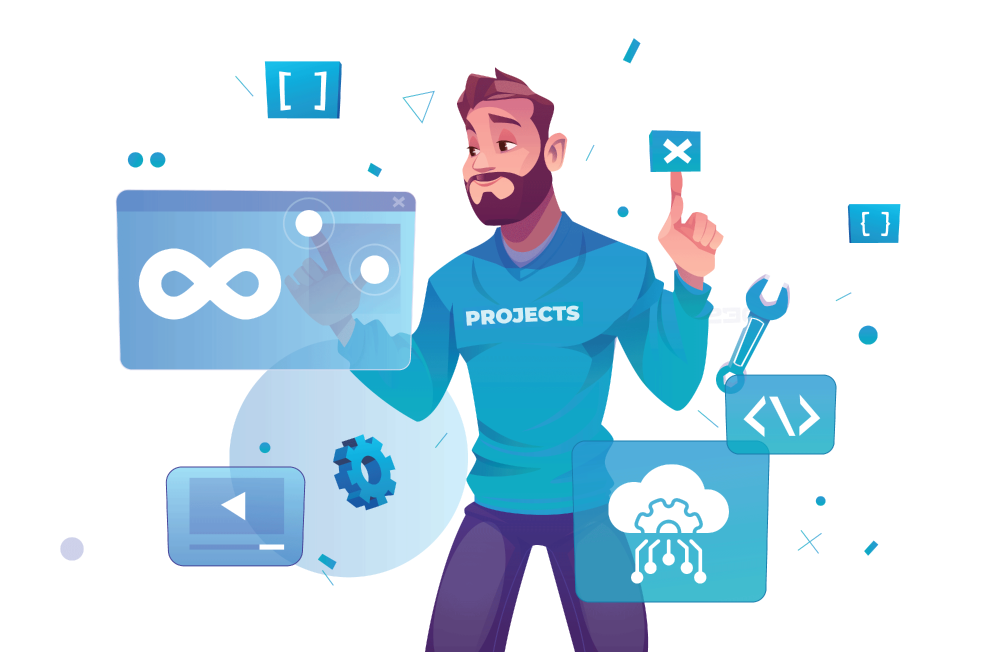 Stringent Recruitment Process
Our candidates undergo a rigorous selection process to ensure that we bring on board only the best!
Thorough Background and Reference Checks
We meticulously check our candidates' backgrounds and verify their references to ensure their reliability
Save Time and Money without Compromising Quality
Why waste your precious time searching for DevOps experts and IT professionals when you can effortlessly hire the best from us?
Time and Cost Savings
Team members available for all requirements, both full-time and part-time
Dedicated members exclusively committed to your project
Streamlined and flexible onboarding process
Proactive feedback reception and implementation
Proficient in monitoring and evaluation tools
Results-driven mindset with a commitment to meeting deadlines
Experts with exceptional communication and collaboration skills
Transparent pricing structure
Unleash the Full Potential of Global Talent with Tecognize!
At Tecognize, we prioritize transparency and ethical business practices above all else. When you hire from us, you only pay for the team members or services you acquire, with no hidden fees or commissions.
Recognizing the need for global accessibility in today's tech-driven world, our skilled professionals work in various shifts to ensure we can deliver the perfect team to you, regardless of your time zone.
If you find that one or more team members aren't the right fit for your business, we will promptly replace them at no extra cost!
At Tecognize, we employ a rigorous and comprehensive hiring approach to select only the most talented software developers and DevOps experts. We always keep in mind that our hired team members will not only contribute to our success but also make a significant impact on our clients' businesses.
Defining Job Requirements
Based on project demands, we define the roles and responsibilities of software developers and DevOps experts.
We also outline the necessary technical skills, programming languages, frameworks, and tools required for the job.
Crafting Job Descriptions
We create clear and comprehensive job descriptions that detail the role's duties, prerequisites, and expectations.
The job description includes information about the project, the team, the organization, and any unique requirements or preferences.
Sourcing Potential Candidates
We utilize various platforms, including social media, online job boards, and professional networking sites, to advertise the job opening.
Our team actively taps into industry networks, recommendations, and recruitment agencies to identify potential candidates.
Our hiring team shortlists candidates who meet the fundamental job requirements after reviewing their resumes and applications.
We assess the candidate's compatibility with the position description and the organization as a whole.
To evaluate a candidate's coding proficiency and problem-solving abilities, we conduct technical assessments.
We administer coding challenges, tests, or assignments to assess their knowledge of required programming languages and frameworks.
We conduct initial phone or in-person interviews to evaluate candidates' qualifications, technical expertise, and communication skills.

To assess cultural fit and alignment with team dynamics, we conduct in-depth interviews with key stakeholders such as technical leads, team members, or managers.
Cultural and Behavioral Assessment
Our team assesses soft skills, teamwork, problem-solving approaches, and communication abilities.
We also evaluate adaptability, openness to new experiences, and teamwork skills.
Integration and Onboarding
After the candidate accepts the offer, we initiate the onboarding process, which includes paperwork, equipment setup, and access provisioning.

We introduce the new team member to the group and provide an overview of the project, company policies, and culture.
Experience the Future with Our Software Development and DevOps Excellence!